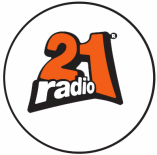 Incepand cu 13 octombrie Radio 21 a devenit partener principal al Battle of Songs 2010.
Radio 21 este postul de radio care in ultimii ani s-a facut "vinovat" de lansarea unei intregi noi generatii de artisti incadrati in curentul numit "popcorn". Multi dintre artistii incadrati in acest curent au trecut cu succes granitele tarii, ajungand pe locuri inalte in topuri internationale si capatand statutul de artist international
Inna, Play & Win, Deepside Deejays, Nick Kamarera, Radio Killer sau Edward Maya sunt doar cateva dintre numele lansate de Radio 21.
La cea de-a patra editie a Battle of Songs, juriul ii cuprinde pe cei mai influenti oameni din FM-ul romanesc. Prin alaturarea in calitate de partener media, Radio 21 acorda un vot de incredere suplimentar concursului.
Battle of Songs este concursul care da ocazia tuturor celor care au talent in compozitie sa se afirme.
Partenerii media ai concursului sunt Radio 21, Sapte Seri, Trilulilu.ro, Bestmusic.ro, Monden.info si www.radio2110.ro
Partener spercial AudioGateStudio
Battle of Songs este un proiect Star Management
---